The Norwood Company was founded in 1975 in North Woodbury, NJ as the construction affiliate for a developer of commercial and light industrial properties, primarily operating in the Middle Atlantic Region. Originally, Norwood served as a nimble and reliable contractor who could react quickly, provide high quality workmanship and build on a tight budget as a service provider to the developer. Some of Norwood's early accomplishments include being the lead builder for The Great Valley Corporate Center, a 700 acre master-planned office park in Malvern, PA and the completion of numerous light industrial facilities at Purelands Industrial Park in Southern New Jersey.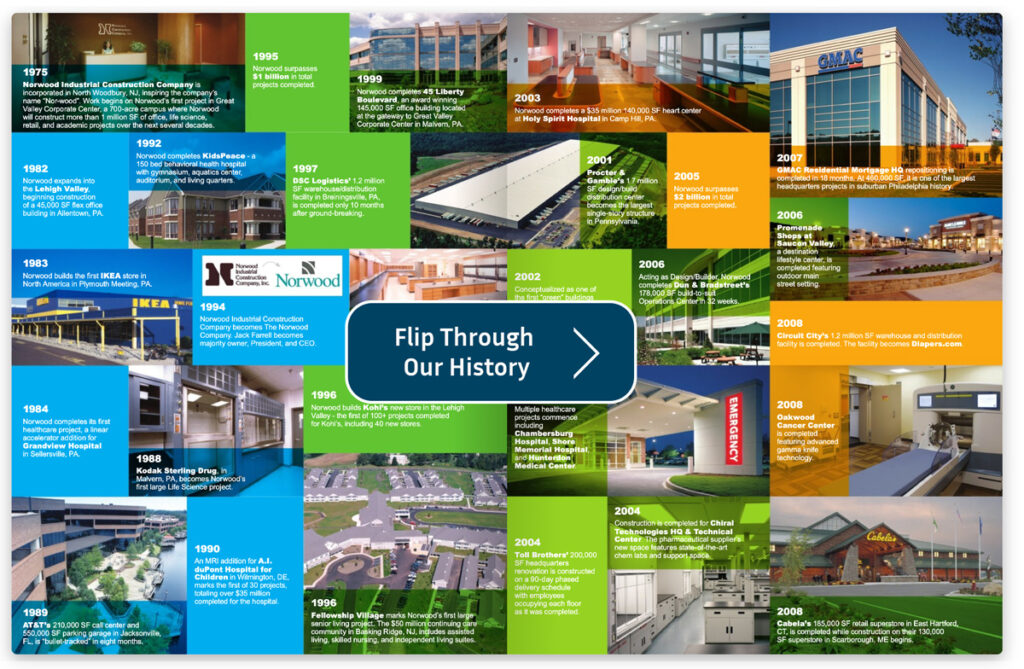 The 80's were a period of growth and diversification for Norwood. The company expanded into new markets as retail, life science and healthcare facilities were completed, leading to specializations in those building types that still endure today. In 1994, Jack Farrell acquired Norwood, becoming President and CEO. Under Jack's leadership, the company continued to grow and became more sophisticated. By the early 2000's, Norwood was listed by Engineering News Record as one of the Top 400 Construction Manager's in the nation and was also listed by ENR as one of the Top 10 Builders of Warehouse/Distribution Facilities in the Nation. Norwood also became a local pioneer in the planning and construction of sustainable facilities, while also embracing the most advanced technology and computer applications in the building and construction industry.
In 2017, the ownership of Norwood was transitioned to a group of the company's long-time executives, led by Joseph Mitchell, Jr., through a management buy-out. Today, Norwood is fully immersed and highly experienced in seven specific building types: Science & Technology, Distribution & Industrial, Healthcare, Office & Interiors, Gaming & Hospitality, Academic & Institutional, and Retail facilities. Completed projects include more than 20 million square feet of industrial/distribution facilities, a diversified portfolio of healthcare building programs as large as $150 million, tens of millions of square feet of office buildings, various destination retail and casino gaming venues, thousands of senior living units and various types of laboratories, technology and sterile processing facilities.