We leverage innovative and trusted technologies to enhance the quality, safety, efficiency, accuracy, and productivity of our construction projects.
Norwood is widely recognized for its innovation and use of advanced technologies, both on-site and behind the scenes throughout the construction process. More and more of our construction process is digitized and we are a strong advocate of using advanced and lean methodologies to continually improve. Norwood is the perfect sized company to remain both agile, connected, and innovative with regards to technology. We guide and support our project teams but also provide our services to third parties and clients directly. Our broad technological expertise has proven to be a benefit to any project or client.
BIM & VDC

Norwood embraces the advancement of Virtual Design and Construction (VDC) and the use of Building Information Modeling (BIM) 3D modeling. Offering a dedicated in-house staff to support the use of these progressive tools in construction projects, our clients see tighter schedules as well as improved coordination, accuracy, and quality. Norwood uses the most advanced VDC applications including Autodesk's Building Design Suite, Asta Powerproject, Procore, and Assemble Systems, among others.
360° Photos & Videos
Through the use of 360° camera technology, Norwood's teams can quickly and thoroughly document a project's status. Two fish-eye lenses capture an interior space in spherical panorama, and rooms are linked together to form a complete tour of a building in high resolution. Whether we want to create a snapshot of above-ceiling MEP systems before gyp boards are installed, or aid in the punchlisting process, this tool is helpful throughout the life of the project.
3D Construction Coordination

To deliver a complete, high quality and robustly coordinated project,  Norwood assembles complete 3D building models with Architecture, Structure, Mechanical, Electrical, Plumbing and specialty systems digitally represented in high-detail. Using this information and tools like clash detection, we can anticipate potential issues and resolve them prior to construction. Clients with intricate MEP requirements, like those in the healthcare or life sciences industries, gain the most benefit from Norwood's technical resources.  Whether the need is to accommodate complex systems into small spaces, accurately locate underground utilities or integrate prefab supplies, Norwood's BIM coordination save times, eliminates waste, and keeps costs down.
Laser Scanning and Scan to BIM
Laser Scanning is a powerful tool to help capture predesign dimensions, precisely locate critical elements, establish current as-built BIM plans, and visualize projects remotely.  Through the use of laser scanning, Lidar, and Matterport technologies, Norwood's team can quickly and thoroughly document a project and its status. Interior spaces are digitally captured, and rooms can be linked together to form a complete tour of a building in high resolution or document existing conditions with extreme laser accuracy. Whether a project needs an accurate BIM of a current facility or a web-hosted progress walkthrough our team can provide invaluable insight before and beyond the life of a project.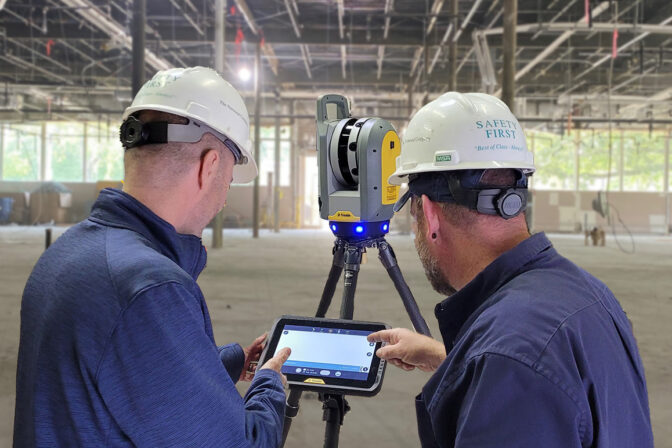 Virtual Reality

Virtual Reality (VR) allows our teams to help a client visualize their projects when traditional plans and elevations come up short. Situating a client anywhere in their building with first-person view and real-time rendering, accurate materials, and controllable daylight provides an unparalleled immersive experience.  Norwood offers VR at our Malvern location using Oculus Rift and Enscape, and also operates a series of portable units that can be brought on-site as well.
Augmented Reality
Interacting with real life objects in real time, Augmented Reality allows us to layer digital information on top of actual structures.  In the photo, a team member evaluates hanger locations using his iPad, showing the complete 3D BIM model layered on top of what the camera sees. He can see any or all trades and where they will be placed as he walks the site.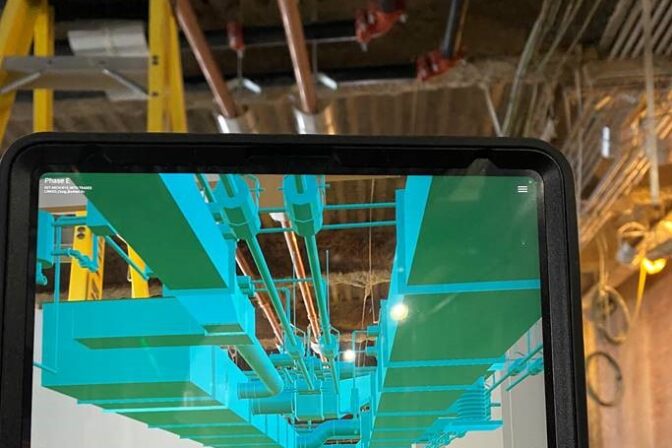 Drone & UAV Services
Norwood flies a DJI Mavic 2 Pro Unmanned Aerial vehicle (UAV) to perform a variety of essential tasks on jobsites. Some uses include project documentation, safety inspections in hard-to-reach or unsafe areas, 2D & 3D site mapping, topographic surveying, and stockpile validation and measurement data. The use of UAVs allows for the efficient harvesting of routine data that can be efficiently analyzed and acted on.
Validation & Constructability Review

Through our decades of experience and integration of cutting-edge construction technologies, Norwood is able to provide thorough and accurate Validation & Constructability reviews. Norwood utilizes BIM, Assemble Systems, 3D, 4D, and 5D modelling, clash detection, as well as automated and computational processes to as valuable assessment tools. We continue to explore other technologies that will enhance our capabilities in this area, including artificial intelligence.
Phasing & Staging
Part of our BIM/VDC capabilities include 4D modeling. This technology is able to track materials and their installation timeline by tagging their digital counterpart with critical data. In doing so, team members can easily visualize key milestones in as a time lapse. It is a dynamic tool for estimating and scheduling and it helps the team understand phasing and staging efforts and inform site logistic decisions.
Digital Quantity Extraction
Using Assemble, an advanced building data analytics tool, Norwood can calculate exact quantities of any construction materials represented in a digital model including studs, drywall, concrete, equipment, and other quantifiable data. This capability adds accuracy and efficiency to our bidding and planning processes.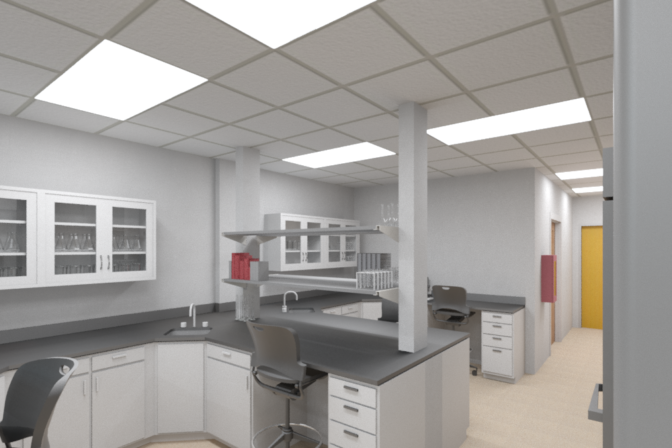 Visualization – Rendering & Animation
Using 3D models, advanced graphic design software, and more, Norwood produces realistic animations, images and renderings for clients and prospective clients.
Livestream Site Cameras
The use of livestream site cameras not only enhances Norwood's security measures, but also offers convenient remote monitoring. The project team is also able to view construction site progress through an advanced time lapse function.